UX and Design
How to Be Customer Obsessed & Intelligence Driven
21 December 2022 • 6 min read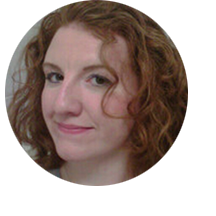 By Ellie Hughes
Summary
Customer obsession and being intelligence driven are key features of Digitally Great organisations, but meeting customers' expectations is as much art as it is science. This balance is difficult to do but organisations that manage it well benefit from the creative tension and the positive outcomes it generates.
Being customer obsessed means delivering a first-class customer experience, but how do you define customer experience?

Ask most leaders to describe what customer experience means, and odds are "look and feel" will be mentioned. But experience isn't how websites or apps or stores look and feel, experience is how customers react and feel when pursuing a purpose important to them.

Customer experience encompasses every aspect of a company's offering, the quality of customer care, advertising, packaging, product and service features, ease of use and reliability.
"You have to really understand the essence of what the customer is trying to solve and deliver that solution to them," says Aaron Levie, cofounder and CEO of Box.


What about being intelligence driven, how does that help?
The customer experience also needs to be driven by the data you collect about your customers at all the touchpoints you have with them. Without this holistic customer view, all efforts to innovate and improve your products and solutions for customers will either fail or only be successful in a silo. In some cases, efforts to optimise in one area could create a poor customer experience elsewhere, due to the disconnected nature of the experience presented to end users.

Therefore, to grow and innovate successfully, it is necessary to listen to your customers to develop products and solutions to make your business successful and, at the same time, continue to invest in understanding the customer and servicing their needs.


What makes this approach difficult to implement?
This approach, if taken too far in either direction, creates a unique set of challenges:
Listen to the customer too much, and you end up with unwieldy and bloated products, highly customised for every client or customer, leaving you with a portfolio of projects which are expensive and difficult to maintain. Long term this can even affect the viability of your overall business.
Focus too much on the sales and data and you risk developing solutions that are good for your business, short term targets and KPIs, but don't necessarily satisfy genuine customer needs. Additionally, limiting efforts to tactical KPIs could mean the products don't fit the wider market needs or allow you to pivot with the changes in the wider world, changing customer needs or significant events. This could even lead to your product degrading over time, meaning that what feels like a sound decision at the time may negatively impact the customer experience long term, and subsequently business performance.


What are the potential solutions?
In order to be successful, we have to strike the right balance in the following fields:


Data Fluency
This means not just being data driven and using data, but having employees who actively seek to understand and use data in their roles, offer up the data they obtain from your customers, and use the synthesised data to make decisions, daily. It goes beyond having data specialists in your organisation, though that is also important, and is more about the common language your employees use to share knowledge and make evidenced based decisions.
Data Fluency includes:
Understanding and interpreting data and KPIs
Generating actionable insights from data available
Understanding data quality, source systems, platforms and governance
Qualitative and quantitative sources of data.
Product Capability
This means that within your organisation you have the necessary knowledge and skills to discover, define and launch value-adding products and services to your customers.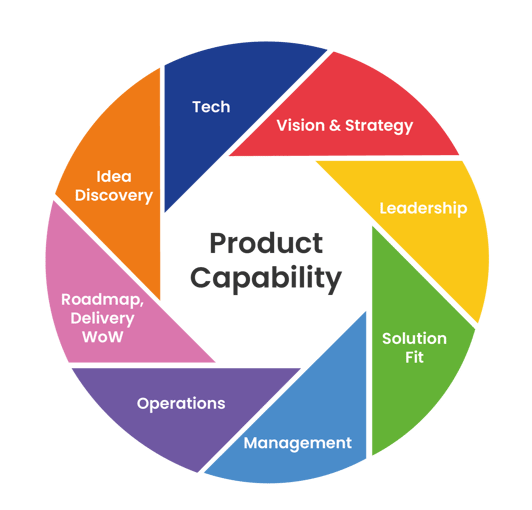 Product Capability includes the following considerations:
Vision & Strategy - Do you have a shared understanding of your product vision, strategy and roadmap?
Product Leadership and Organisation - How are your leadership and organisation arranged to support your product success? How are decisions made?
Product Management - How do you run your product, manage your team and roadmap?
Product Tech and Engineering - How do you understand the technical constraints you face? How are you working with Tech and Engineering to build your product successfully?
Roadmap, Delivery, WoW & Operations - Are you delivering in an iterative and incremental way and consistently hitting your delivery targets?
Idea Discovery & Solution fit - Can you easily convert product ideas into delivered features and do you react to trends in the industry?
Innovation/Experimentation Culture
This means everyone in your organisation sees the value in testing, learning and iterating in order to create innovative solutions to customer opportunities and problems that ultimately improve your product and your bottom line.
Cultivating this type of environment will mean encouraging curiosity in your employees, valuing data and evidence above opinion when making decisions and ensuring that failure is not seen as a negative, but rather a natural consequence of learning.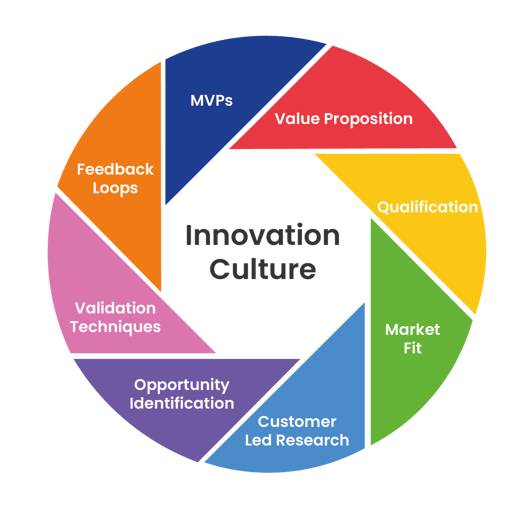 Innovation and Experimentation Culture includes:
Value proposition
Market fit and growth strategy
Opportunity identification
Qualification of strategy, proposition or ideas
Validation techniques
MVPs
Feedback loops
Customer led research

Having each of these fields enabled and embedded in your business is only the first step. Each one complements the other well but it's the intersections of each where the real value is found.


Data x Product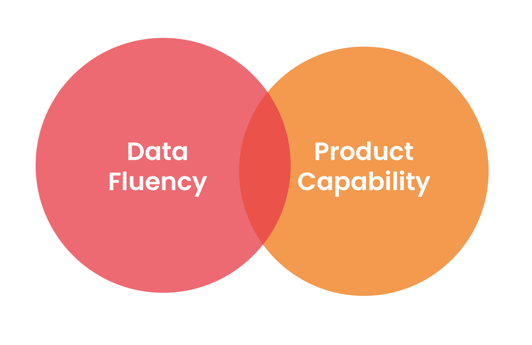 When Data and Product are working together, the following initiatives are more successful and complete:
Product discovery
KPIs
Goals, targets and OKRs
Measurement of success
Writing hypothesis
Customer data strategy
Data driven product decision making
Product x Innovation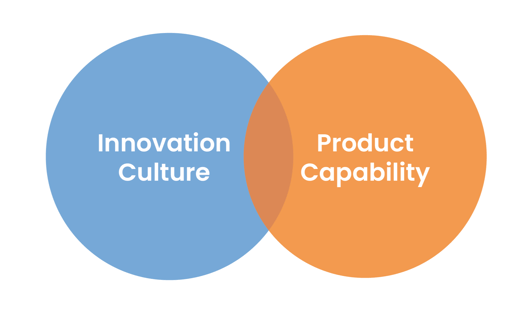 When Product Capability and Innovation Culture come together, the following become more possible:
Mindset & Culture - Does your culture encourage curiosity and experimentation? Are you constantly adapting and improving?
Pivoting products, including starting up, scaling up and sunsetting when no longer useful.
Varied growth strategies, product-led growth, sales-led growth, marketing-led growth
MVPs and feedback loops.
Responding to Customer and Market trends.
Strategy for learning and putting into practice what you learn.
Innovation X Data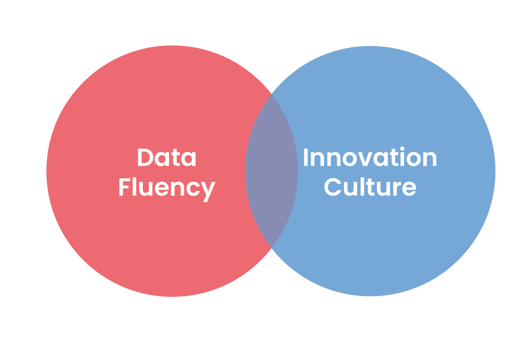 Data and innovation come together to enable:
Data products - data science and engineering

Data monetisation - AI, Machine Learning

Formulating hypotheses and simulating scenarios to test them

Data research and statistics
Love of the Customer
Sitting at the centre of the confluence are those companies that are customer obsessed.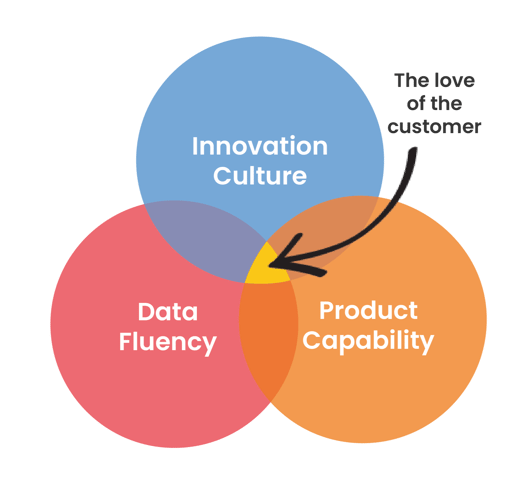 This is where the best of each field comes together and ensures that the approach is balanced and can weather any issue or scenario with ease. It's where building experiences that customers enjoy using, being profitable, being able to pivot, iterating and validating and having a growth model that works for your business and your customers.

This leads to companies that are recession-proof, pivot-proof, as you've thought through your approach, and agile enough to respond to future changes.
What outcome should we be aiming for?
According to Peter Drucker:
"The true purpose of a business is to create and keep customers."
Customer obsession requires coordinated action on several fronts. We need to communicate its importance and show employees how their actions affect the customer, for good or for bad. We need data, product and innovation to work together to help us achieve that.
Teams need to know they can and should take proactive steps to address customer issues. Businesses need to reward this customer-obsessed behaviour. As a result, communication channels need to be open and clear. Valuable customer intelligence is disseminated to all those with the power to act on it.
Only by achieving this fine balancing act can companies ensure they sit confidently in the middle of these three fields, achieving Digital Greatness through Customer Obsession.
In Summary
Customer Obsession and being Intelligence Driven are key features of Digitally Great organisations, but meeting customers' expectations is as much art as it is science. This balance is difficult to do but organisations that manage it well benefit from the creative tension and positive outcomes it generates.