Culture
My journey into product management consultancy
03 November 2021 • 7 min read
In this blog, John Kearney, BAFTA winner and product leader in the AND Consultancy Product Practice, reflects on his journey from Executive Product Manager to Product Management Consultant. How to look for the signs that you're winning and why it's important not to abandon your principles.
I can remember the start of my career in Product Management clearly: it was 2013 and I was on a two day course run by the BBC Academy called Effective Product Delivery. That might not sound career changing, but it was: it's when my mindset shifted from simply how am I going to deliver this thing? to Why? and What's the difference we're trying to make?
Starting out wasn't easy, however. My first ever product was to develop the vision and strategy for a new mobile app, built by a cross-functional team. It launched (good!) but it received only average reviews on iOS and was barely installed on Android devices (not so good).
The rocky start could have made me feel vulnerable, but it was a lesson in leadership that I didn't feel vulnerable. Our leadership team understood we were in the infancy of a new tech strategy; they believed in it. They knew we were insight driven and focussed on the right outcomes for users, and understood this was just the start of the journey.
Because of this - because we were allowed to fail - the team and I felt supported, and confident we could resolve the issues with the launch and make progress. The outcome spoke for itself: the app matured into the highest ranking free app in its category across iOS and Android.
This gave me a firm belief that organisations need to embrace 'product culture', where stakeholders and cross-functional agile teams adopt a shared mindset that guides how decisions are made to support the product. We were empowered, it accelerated our learning, and we delivered results together.
Why consultancy?
There are many aspects to product management; that's the attraction of the role.
Personally, I've always enjoyed working within ambiguous contexts and on opportunities that require a critical eye and a creative mind.
More specifically, I enjoy problem solving and bringing people with me on a journey as we uncover opportunities to bring optimism and energy to initiatives, ideas, products or services.
At a deeper level, the work I love is synthesising data, performing user research, and getting to grips with business and market context to inform and develop product strategy.
That, in particular, is why I felt the transition to product consultant would be an exciting opportunity.
The difference between client-side product management and consultancy
When you're in a client-side product role over a number of years, the chances are you already have credit in the bank with your stakeholders. These well-formed relationships alongside research & insights take you a long way when you need to build investment and alignment in your vision, strategy, and desired outcomes.
In a consultancy role the stakes are higher, and the personal risk feels greater. Why?
It's highly likely that you won't have that credit in the bank with stakeholders at the start of an engagement. Trust needs to be earned quickly.


In my experience, you will have less time to develop your understanding of problems and opportunities. It's critical to get this right in order to help the client build investment and alignment around an opportunity.
These tensions are your immediate challenges with each engagement, and you need strategies for rapidly building trust, and getting to grips quickly with subject matter.
The deeper long-term challenge, though, is the client relationship. With every new client, you want to reach the goal of becoming your client's trusted advisor. This is someone who can support the client both personally and professionally. It's the holy grail set out by Tom Peters, in the book "The Trusted Advisor'.
This doesn't mean creating a relationship where the client is dependent on you, but just that you're there. If professional or personal support is needed, you're the person.
What does it take to become a 'Trusted Advisor'?
I've never wanted to be pigeon-holed in my career. Although all of my early product management experience came within the media industry, I was keen to move beyond that field and bring my knowledge to new contexts - in turn that would challenge me and help me to learn new things.
This was one of the attractions of moving into a consultancy. It would give me access to different industries and an opportunity to demonstrate how product leadership can help organisations transform their people, products and services to make a difference.
The evolution of a client-advisor relationship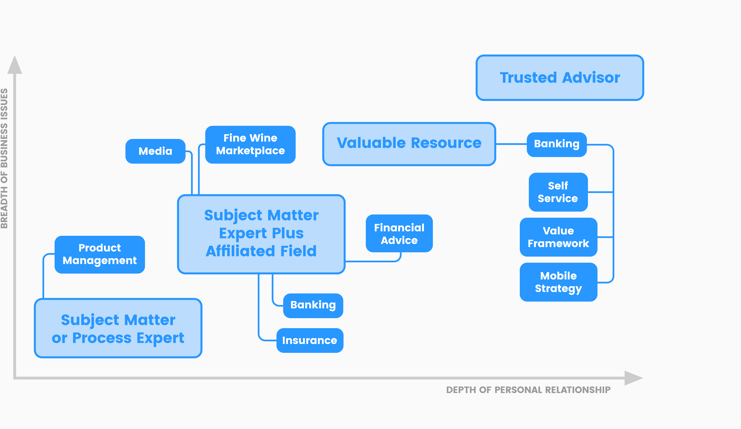 So far, it's been extremely rewarding. Having spent the best part of 2020 working with a financial services company, I was fortunate to have the space to develop strong relationships with a number of individuals, and in turn help them develop opportunities across different areas of their organisation, always using trusted product methodologies as my foundation.
But have I reached the holy grail of Trusted Advisor? I've certainly built strong relationships, and beyond the professional job in hand I've definitely advised some clients on what breed of dog to go for. I've had open and honest personal conversations about our family lives, and we've kept in touch after our work has finished with some clients.
However, I'm not the football agent who's been with their client for their whole career. Or the family financial advisor who's looking after a whole family's wealth for a generation.
That said, should I be? At AND we aim to help close the world's digital skills gap, that means upskilling our clients so they have everything needed to become a self-sufficient digital company. It's not our intention to create an everlasting dependency on AND.
Are you ready to give up control?
If you're considering a product role within a consultancy context, you need to be comfortable that you're giving up ownership. A consultant is a professional advisory role. In most cases you're providing the client with the insight and strategy they need to progress their work.
If it's important for you to have control of everything in your product role, end-to-end, it's perhaps not the right move for you to move into a consulting product role.
In my personal experience, the demand for product consultant expertise is primarily needed in developing strategy, product discovery, transformation and capability assessment. If that's your speciality, then consultancy could be the way to go.
How do you know when you're winning?
When you're starting out as a consultant, it isn't always easy to determine if you're actually succeeding. That's especially true if you're used to a client-side cadence; when you're working on shorter engagements, the wins come in different shapes and sizes.
Rather than waiting for those big aha! moments, pay attention to subtle, small wins. They're the kinds of things that reflect and evidence three key things: trust, transformation, and the fact that you're valued:
Trust: Maybe you're asked to run a workshop with a group of SMEs because you've been noticed as someone who can bring people together, and pull them in the same direction.
Transformation: Perhaps you observe your client taking the courage to advocate to a leadership team that they consider the desired customer outcomes first. Evidence you've influenced them to think about developing opportunities with a customer-first/outside-in mindset.
Valued: It could be that you're asked for strategic advice or support on another challenge the client has, this validates that your client has begun to perceive you as that valuable resource outlined by Tom Peters.


The chances are the more moments you have where you're generating trust, observing transformation, or feeling valued, you're increasingly likely to generate more opportunities from your existing network of clients to support business development.
Stick to your product principles
For any product managers considering consulting as their next career opportunity, here are the top four principles that have served me well on my journey:
Develop product strategy & ideas alongside a value framework that has clear measurable outcomes for the organisation & customers;
Understand what progress customers are trying to make, and influence others to think this way;
Listen, and reflect back, your understanding of the clients/stakeholders hopes and fears.
Find the people who can help you get to the root understanding of problems, and bring them together.
Sticking to these principles has given me a solid foundation for every client I've worked across, and also helped me articulate an approach when developing proposals to win client work. However, these principles are only the starting point for a consultant on the journey to become a trusted advisor.
Footnote
These are my thoughts as a product consultant, based on the types of engagements I've worked across. Other product consultants are likely to have had different experiences, and can put forward different views. That's the serendipitous nature of being a consultant.
I would love to hear more about other consultants' experiences, and I'm happy to chat to anyone with a product background who's thinking about moving into a consulting role.