Community
Celebrating International Women's Day 2021
07 March 2021 • 7 min read
The theme of 2021's International Women's Day (IWD) is #ChooseToChallenge - something we take seriously here at AND Digital, with a team dedicated to improving diversity and inclusion in the workplace.
Looking at the broader information around diversity in the tech industry, it's not the positive picture it could easily be. Women working in the UK technology sector account for just 17% of the workforce, a figure that has only grown by 1% over the past five years. A lack of diversity can also be found at the board level. Tech Nation found that the state of diversity among directors of UK tech companies was unbalanced with 77% of tech director roles being fulfilled by men, and 23% women. Yet in the wider economy, 71% of directors are men, and 29% are women.
Diversity and inclusion are some of the biggest challenges facing the tech industry today. When businesses consist of people from the same backgrounds, diverse ideas and perspectives can be left behind. Together, we can choose to challenge ourselves to help close the diversity gap in the technology sector.
Diversity at AND
At AND, diversity and wellbeing continue to be a big part of our agenda - from our work supporting STEM-based initiatives in education, to our continuing commitment to nurturing and developing female leaders and tech talent. Some of the ways we do that includes hosting, supporting and joining a wide range of activities and events, including:
Delivering STEM workshops at schools and universities across the UK;
Ensuring every new joiner to the business attends a session on the impact of unconscious bias to help continuously improve our interview process;
Signing up to and embedding industry charters such as Tech She Can into our culture, to hold ourselves to account and support the ongoing conversation about gender diversity in tech;
Championing our female ANDis with access to regular training and development events, such as the #WeAreTechWomen Conference;
Highlighting the achievements of women in our organisation by entering into prestigious awards to recognise their work;
Joining the debate with regular contributions to articles and podcasts on related topics (check out this article on COVID and women in tech by Tina Howell, our Exec for Cloud Engineering and this blog on kickstarting your career in tech by Shan Beerstecher, one of our club execs).


At AND, we're proud to have recruited 215 people in the last 12 months, with 33% being women. Also, 33% of our leaders at AND, referred to as the 'Pioneers', are now women. Whilst we all have a long way to go to encourage more women into the tech industry, AND is firmly committed to creating a diverse and inclusive place to work for everyone.
Celebrating IWD
To celebrate IWD, we asked our ANDis to strike the Choose To Challenge pose by raising their hand high to show that their committment to calling out inequality.
We also spoke to some women at AND who are driving our business forward to find out what the day means to them.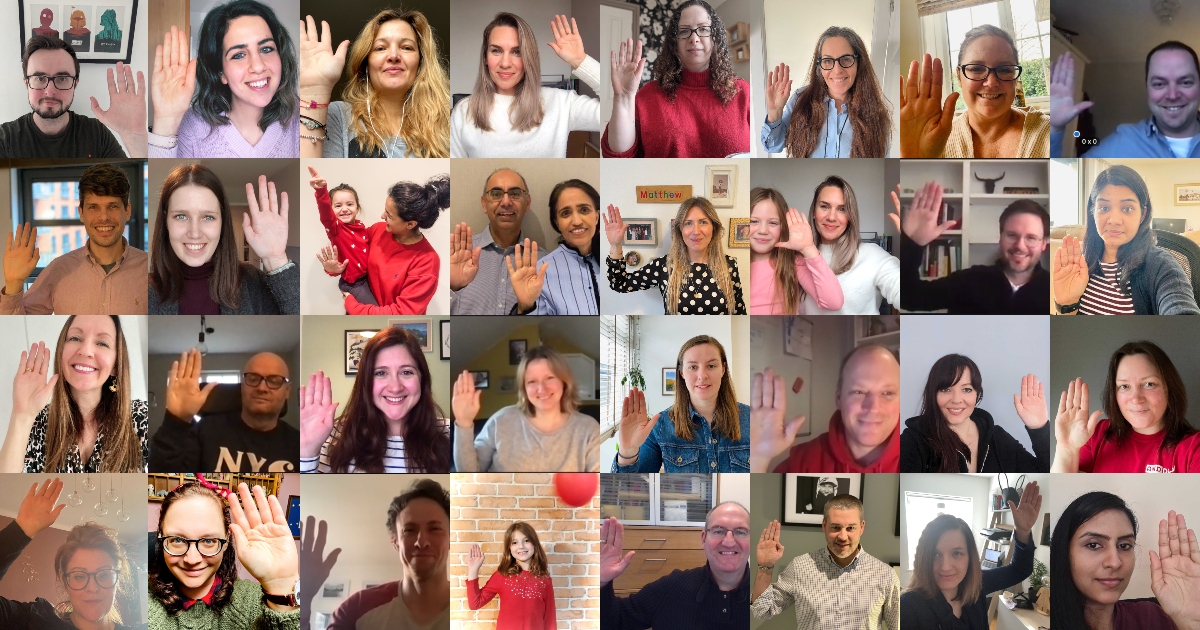 Antonia Walt
I'm Antonia Walt, the Club Executive for one of AND's newest clubs based in London. For me, IWD immediately evokes mixed emotions of both gratitude and determination.
As a female working in technology, there are of course challenges, but the satisfaction and connection I've felt in challenging and conquering these with other women in the organisation have been inspiring and uplifting. Allyship from male colleagues to support and help to propel us forward has also been something I'm hugely appreciative of.
That said, there's so much more we can improve on and I'm determined to use the foundation that we've built, to drive continuous change into the future. I want this for all of my fellow female colleagues, but even more so for the girls and women looking for reasons to get into technology careers in the future too.
Alia Khan
I'm Alia, and I work as a Product and Squad Lead at AND Digital; I'm a working mum who is passionate about digital product products but even more passionate about working with remarkable people.
IWD is an important time to reflect on how much pioneering women before us sacrificed for the sake of progression, and a reminder that we have a role to play in this ongoing story. We must add to the legacy and continue to pave the way for a more balanced, equal and empowering future for our children.
As a working mum, I want my daughter to be free from the doubt that she can't do anything she wants to do - IWD reminds me of how much I want to be a role model for her.
Overall, it's a day to celebrate a sense of belonging, unity and togetherness with both my female and male colleagues who are equally passionate about ensuring diversity in our business.
Tina Howell
I'm Exec for Cloud Engineering at AND Digital. I am a big advocate of diversity and inclusion, as a woman who has achieved her ambition it is only right to support others on their journey.
Women International Day is so important to remind women why we are needed in the world we live in - we give different insights into business and life. We are more caring, less demanding and we believe in a fairer world. For total equality, we need to challenge more, we need to stand up and for the women who had the career is for them to pay it forward. We need to nurture the women around us and ensure they feel safe to challenge. We also need to remind people that allyship is also important in the world we live in.
For my own career, I have been so fortunate, yes I have fought, challenged, and also had fun, but I am hoping I have made it easier for more women to get into tech. You can see the world has changed from twenty years ago, it may take another twenty before seeing true equality. Thank you to all the people who have helped me, comforted me, and also laughed with me.
Mairead O'Connor
I'm a club exec at AND Digital and I've spent my whole working life in technology and consulting. It's a great industry to work in because there's so much scope to affect the world.
IWD reminds us to step back from the day-to-day and look at what women have accomplished, and remember there's still so much to do before everyone has fair access to opportunity. So often, the urgent distracts us from the important. Today's a great day to think about what's next in building more political, economic and social power for women.
Krishma Patel
I'm Krishma Patel, one of AND Digital's Practice Group Leads. I lead a team of multi-skilled principals and help to shape product and technology practices for our clients and our people.
For me, IWD is about celebrating the successes we have achieved by working collaboratively across the genders, supporting one another and embracing the diversity we each bring to our professional and personal lives.
At AND Digital it's really important that everyone gets the opportunity to work in a balanced, authentic and supportive environment - it's a great place to be!
Shan Beerstecher
As Club Exec at Club Newton in Reading, I'm passionate about inclusion. I recognise that people are at the heart of any business and to get the most value out of them they need to feel safe enough to contribute and engage.
International Women's Day for me is a time to really celebrate women! A time for us to all recognise our achievements. A time for us to come together in support of each other. But most of all, a time to galvanise our colleagues, our communities, and our friends to step up and challenge and to advocate for us.
For me, International Women's Day is embodied by the largest mass gathering of women in South African history in 1956. They gathered to peacefully demonstrate against the imposition of black pass laws on black South African women with the slogan "'Wathint' abafazi, wathint' imbokodo" - "You Strike the Woman, You Strike the Rock."
Wendy Stonefield
Hi, I'm Wendy Stonefield, a Club Executive at AND Digital. I'm also the mother of a 17 year old son and a stepmother to two boys aged 14 and 11.
IWD is a much needed opportunity for us to stop and reflect on the successes and all that women have and continue to achieve. We must also recognise the areas where there is still room for improvement and change.
I love this year's theme of Challenge as it is truly through challenge that we affect change, and it is within the gift of everyone to challenge and call out any flavour of inequality. I see it as an inclusive theme that enables all to feel part of the journey towards equality. I'm looking forward to celebrating with the many amazing women that I am fortunate to work with who represent such a range of incredible backgrounds, skills and experiences.
Lisa Li
I'm a Tech Lead at AND's Reading-based office, Club Newton. For me, IWD means a celebration of what women can do. We can be daughters, mothers, aunties, sisters, but we can also be doctors, housewives, scientists, shop assistants, teachers, cleaners, managers, and leaders.
This day is to remind us to embrace our differences, celebrate our versatility and most importantly to remind women that no matter what roles we play in society, they are all equally important!
Final thought
To celebrate International Women's Day this year - we encourage you to take time to reflect on what #ChooseToChallenge means, and consider how you can challenge gender bias and inequality.