Agile coaching
Design sprints in 2 hours: working with Leeds Beckett students at Digital Leap
10 August 2021 • 7 min read
A critical part of the way we work at AND is that we always seek to equip people with the digital skills and knowledge they need to succeed. Typically we do this while working with clients, but we have bigger ambitions: by 2025, we want to have helped 200,000 learn new digital skills.

There are lots of ways we're working towards this goal. Recently, we helped out at Leeds Beckett's Digital leap event. This is a great way for non-tech students to find out exactly what it's like to work in the tech industry.

The organisations that were present were diverse. They ranged from NHS Digital to Sky Betting and Gaming. Each one presented a series of talks and workshops on a variety of topics from the basics of HTML to agile delivery methods.

AND's session was about what life is like working in an agency environment with a client. We wanted to demonstrate our culture, but more importantly we also wanted to highlight the fast-paced and ever-changing nature of this type of work. We thought it was particularly important for students coming from non-technical backgrounds to see that skills like adaptability, resilience and communication are just as important in these environments as technical capabilities.

It wouldn't be easy to show all this, but we realised there was one great way of giving the students an insight into agency and tech work: by running a design sprint in two hours.
What are design sprints?
The original Design Sprint, developed at Google Ventures, is a five-day process for answering critical business questions. It's done through a process of researching, designing, prototyping, and testing ideas with real users. It's a great way of answering big questions and unblocking projects that are going nowhere fast. At the end of the week, the team should have a solution to the initial problem and produce a tangible prototype.

Nowadays design sprints are often shortened and adapted to suit an individual company's needs. Given that we had a two-hour slot as part of Digital Leap, some would say that we were ambitious. However, constraints can be a wonderful thing; the time limit forced us to focus on the core of what was important.

To help fit everything in 2 hours, we made some decisions so that the students would not have to spend time thinking about and choosing options. This allowed us to scale to meet the demand for the talk, while ensuring participants were working on similar things and could more easily understand each other's work.
We tried to think of a relatable problem that the students could tackle in their sprint, a large enough topic but with solutions that could be thought of instantly. We decided on this:
"Everyday, households around the world throw away food that could've been turned into a meal.''
We then gave the students further for thought around the challenges caused by this problem in the form of How Might We's. How Might We's are a technique for reframing problems and challenges in creative ways to guide us through the later ideation stages.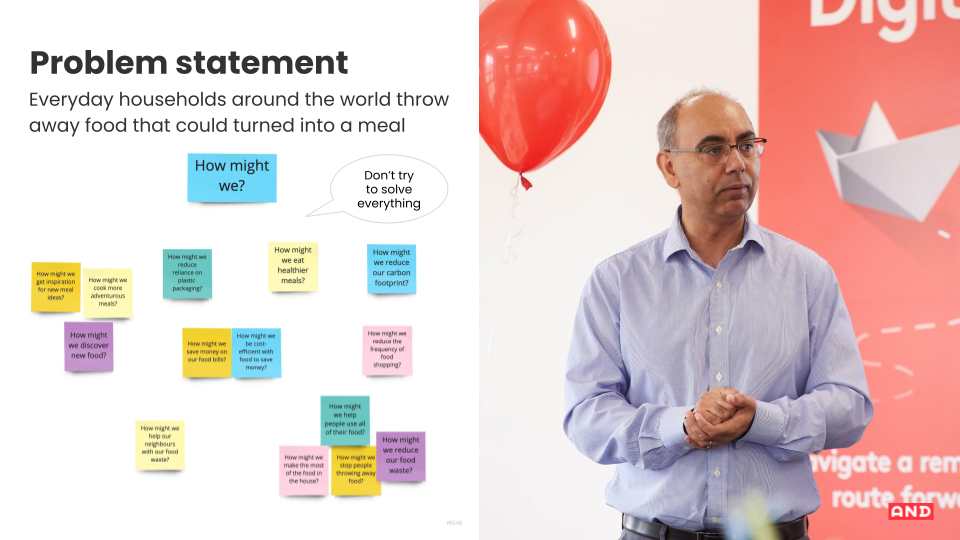 Our design sprint
This is what our design sprint ended up looking like:
Day 1: Mapping (12 minutes)
Day one of a design sprint is about structure. It's where you create a long term vision for the sprint. We create a user journey map that shows the key players within a specific journey so that we always keep these different users at the core of our solution.

To keep the sprint on track, the facilitators provided context. At this point, the aim was to create a shared understanding of the problem while also identifying pain points in the existing journey.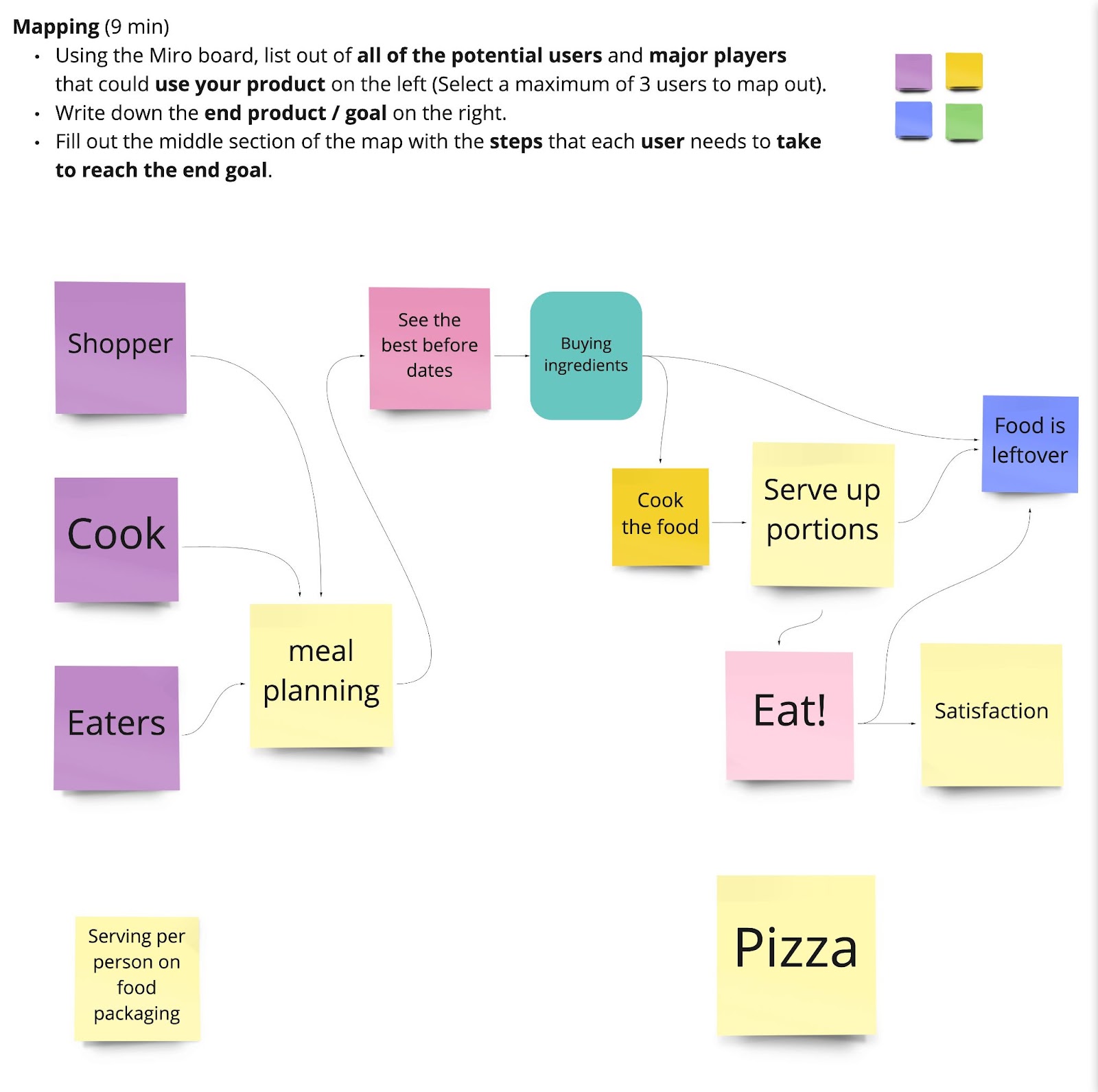 Day 2: Sketching (12 minutes)
Once the mapping is done we can start to think about solutions. This is where ideation comes into play. It's where we investigate different solutions to similar problems or share related solutions that might inspire us.

A common way to do this is with lightning demos and a 4 step sketch. This is a guided independent activity where we review what we have learned and then capture rough ideas to fuel our solution sketches.

We discussed inspirational apps and then ideated in small groups so that we could focus more time on the crazy 8s activity. Crazy 8s is a technique where we sketch 8 different variations of an idea in 8 minutes. We do this to explore what the idea is and could be by considering it from different angles.
The crazy 8s activity is intended to be accessible to everyone. It's the ideas that matter, not the quality of the sketch.
Day 3: Deciding (12 minutes)
We now had a collection of good ideas which gave us a new problem: how do we quickly and effectively review the ideas and pick a solution? We can't, after all, prototype every idea.

The Sprint Book suggests using the Art museum activity. This is simply where all the sketches we did in the previous are put in a shared space (typically taped to the wall), and then critiqued and put to a vote.

To keep things moving, design sprints have a specific role - The Decider. The Decider does exactly what their title suggests: they make decisions quickly. They should, of course, listen to the team but they are able to come to a conclusion and choose the direction they think is best. In this task, the decider chose which solutions were turned into the prototype.
Day 4: Prototyping (21 minutes)
With a solution selected it was time to build a prototype. Prototypes show the user what the intended experience will be without making the actual thing. It's like a Hollywood movie set; you're building a model, not the real thing. Prototypes aren't necessarily physical things; in the context of digital products they are usually drawings, or clickable screens on a computer.

Prototypes aim for the "Goldilocks zone" where it looks convincing enough to be real but does not take too much effort. We also focus on the happy path and do not worry about error screens, etc.

We felt sketching a prototype was the best way for the whole team to contribute in a short period of time. We then linked the sketches together in Miro to make a small interactive prototype.
Day 5: User testing (12 minutes)
Design sprints always end with user testing. This is exciting as it's the first opportunity we have to see how users interact with our prototype. We can find out if the solution actually works - or could work - and whether it's something users might actually want to use.

If it's a non-starter that's fine: it means we can move on to something else. Failed ideas are never real failures: they offer up lots of learning, and can save an organisation money, effort, and even reputational damage.

User testing involves setting a task and observing a user think out loud as they try and complete it. It doesn't have to be a big thing; testing with just 5 users will usually reveal 85% of problems.

Given that any testing is better than no testing, we made use of housemates and covid bubbles to be our testers.
Conclusion: The retrospective
You're not doing Agile if you don't do a retrospective to review and reflect on how things went and what we might do differently next time. For that reason, it's only right that we do one now...

So, we chose a fun and well-recognised activity to share a glimpse of life at AND Digital. Despite the time constraints we were also able to successfully introduce the fundamental components of design sprints.

The students engaged with the process, and enjoyed the opportunity to learn about agile ways of working. They were also able to see that it requires a really diverse set of skills and capabilities to be done effectively.
There were a few key principles that were shared:
We don't need to know everything upfront
We learn as we go
We should be comfortable with uncertainty
We should course correct when needed


If we ran it again, we'd probably want to focus on a smaller problem
so we could all explore it in greater depth. However, as an introduction to agile processes and design sprint, we think it was pretty effective!

We were proud to be part of Digital Leap, and delighted that the session was able to play a small but important part in helping us meet our 'Big Hairy Audacious Goal' of upskilling 200,000 people by 2025. We're excited to do it again: maybe we'll see you at Digital Leap 2022!