Community
Architecting our Culture at AND Digital
22 April 2022 • 7 min read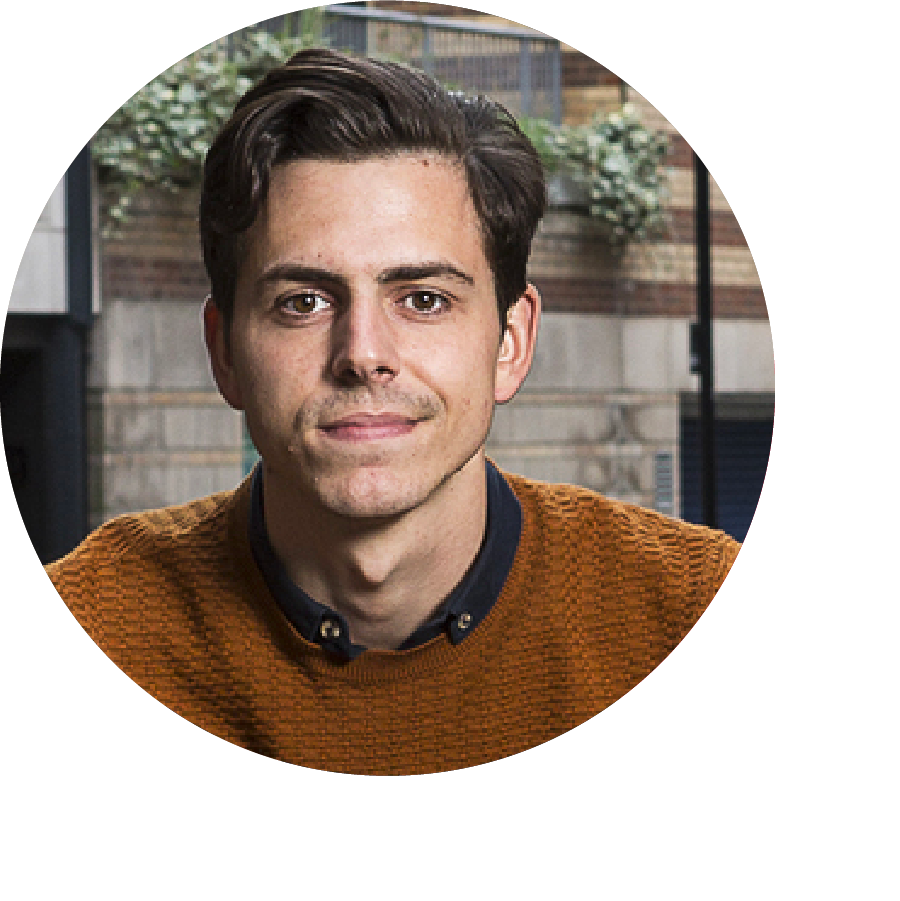 By Christian Chatterton
Rapid growth will sometimes lead to growing pains. This means that culture needs to be handled carefully and with considerable skill and purpose. Head of Client Delivery Christian Chatterton explains how AND Digital does it.
We have a remarkable people first culture at AND Digital, which we think is the key to creating a high growth environment that our people (ANDis) and clients can thrive in.

There's data to support this. Since our launch in 2014 we've grown to over 1,300 people and just recently been awarded the 2nd best employer in the UK by Glassdoor.

To foster this culture we've had to think very carefully about how we promote the right values, mindsets, relationships and behaviours at all levels of the organisation.

I'm often asked what our approach actually is, so this post is intended to share some of the practices we follow. I've listed out 9, and expanded on each below:
We enshrine our values into our processes (planning, recruitment and reward)
Our Club organisational model means we create close knit communities.
Our award winning onboarding programme provides new employees with clarity on the company's mission and creates a sense of belonging from day 1
Our leaders are trained in authentic leadership practices
We use coaching to empower employees and cultivate a growth mindset
Our Career Scrum Teams (CST) framework ensures a more holistic approach to career development than traditional performance management
We create events for our people to connect, celebrate success and grow
Our Academy delivers training aligned to our skills needs and individual learning preferences.
Our social initiatives and governance create a shared purpose
We enshrine our values into our processes (planning, recruitment and reward)

Our values - Wonder, Share, and Delight - are central to our identity. They promote the behaviours that are vital if we're to fulfil our mission to close the world's digital skills gap. To help us live these we enshrine them into many of our processes...
Recruitment: Everyone that joins AND Digital must pass a cultural interview where we assess how they've demonstrated these values through their career.
Planning: Plans made across the business must be explicit about how they align with these values.
Reward: We run annual and quarterly award ceremonies to celebrate the ways our people live these values at work.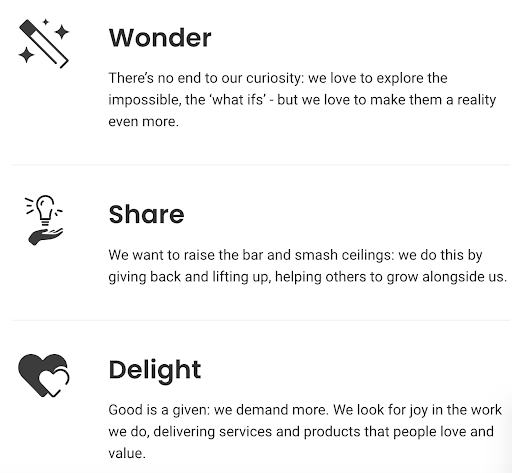 Our Club organisational model means we create close-knit communities

Our clubs are business units that operate autonomously. They each have their own people, management team, clients, learning staff, and a physical office. The size of each club is loosely based on anthropologist Robin Dunbar's thinking around the number of people someone can build trust with.

Trust can foster an emotional connection within a Club and remove the need for lots of cumbersome processes. It also protects the club from the effects of high growth. Our growth strategy means we 'scale horizontally' by adding more clubs rather than increasing the size and management layers to existing ones.
Clarity and context through an exceptional onboarding programme
The experience of starting a new job can be daunting. In many organisations it can take months to feel part of the tribe and understand the full business context. Our onboarding programme is designed to accelerate this experience and make new joiners feel valued from day one.
The programme is 1-3 weeks long and consists of the following...
Context setting

Our CEO presents our company mission and values
Our leaders present the strategy and structure of respective business units.

Building empathy and relationships with team mates.

We do an HBDI assessment to explore people's different ways of thinking and communicating.
We celebrate our hobbies and talents outside of work by asking everyone to pick an "AND title" that we append to their job title and profile.
Members of the existing team attend to welcome new joiners.

Aligning on common practices.

We have focused training on our ways of working across product, agile and tech.
We run assisted laptop and environment setup.
Our leaders are trained in authentic leadership practices

We don't expect leaders to have a single style of leadership. Instead, we follow author Daniel Goleman's suggestion that there are six distinct styles; this means we support leaders to develop the necessary self-awareness and relationships that allow them to grow into a leadership style that is most relevant to them.
We find that when leaders turn up to work as themselves, role model our values and don't shy away from vulnerability it creates a greater level of trust across their teams.

To equip our leaders properly we put them on an immersive 6 month Personal Growth Programme to help them develop their own authentic leadership style.
We use coaching to cultivate a growth mindset
Every person at AND Digital has a career coach whose role is to help them unlock their potential and empower them to grow their career at AND Digital.

Our coaches and ANDis meet a minimum of once per month to have focused conversations on career goals, opportunities, progress and feedback.

If our ANDis have a great idea that will support their growth as well as the company's, we see it as our job to sponsor them and remove impediments. Many of our best company initiatives have been driven from the ground up.
Our Career Scrum Teams (CST) framework ensures a more holistic approach to career development
Traditional performance management processes encourage people to 'sell the work' they did over the past 6 months to management who then grade them and determine pay. Our Career ST framework intentionally removes this process of grading and link to pay, shifting the emphasis to real personal development opportunities.

Everyone in AND Digital has a career scrum team that is committed to supporting them to develop through a series of group coaching ceremonies that are aligned to the agile framework. The team works in 6 month 'career sprints.' They work together through planning, review & retrospective meetings to support individual growth. The team is made up of the ANDi, their career coach as well as relevant domain experts.
This means ANDis are not benchmarked but instead receive a significant amount of time and support from colleagues they may work closely with or look up to. This is valuable, of course, for them — but it is also crucial in building high performing teams across the company.
Events for our people to connect, celebrate success, and grow
We run a mixture of events across AND Digital. Some of these are led by management and others by communities. The goal is usually to build networks, communicate company strategy, and share knowledge. They often require a significant amount of time, energy, and money, but we think they pay even greater dividends for our culture through the relationships that are built and the strategic alignment it creates.

They include:
Quarterly club away days
An annual whole company conference
Communities of practice
Remote introductions and coffee chats over Slack
Training aligned to our skills needs and individual learning preferences
We take personal development seriously. That's why we encourage ANDis to use up to 10 days a year for this exact purpose. This time is an important investment in their careers and the capabilities we can offer our clients. We also find that training is a great opportunity to build relationships with others in the organisation and to share experiences.

Our Academy function provides a variety of learning and development services for our people. This includes classroom learning, online courses, podcasts, lunch and learns, white papers and company conferences. These offerings are constantly evolving and flexed based on feedback loops from attendees and our business units.
Our social initiatives and governance create a shared purpose
Our Social, Ethics and Inclusion (SEI) committee is made up of ANDis who champion diversity and inclusion, social impact, and ethics within AND Digital. The committee ensures we operate according to our values and business principles and support all our people in the best possible way. Together, they develop and review the SEI vision, overseeing the company's commitment to it and progress on its delivery.

We also run a number of high impact initiatives that our people contribute to. These include AND She Can — our programme designed to inspire girls and women to consider a career in technology — and skills-based volunteering for charities.
---
Learn more about AND Digital's community initiatives.
The job doesn't stop…
To measure the impact of these initiatives and keep pushing the bar with new opportunities we seek valuable feedback through quarterly engagement surveys as well as fortnightly committees with ANDi representatives.

This data informs our ongoing People plan. That plan is critical to ensuring we not only have the best employees but that they're happy and thriving as well. Ultimately, that's crucial to the success of any business - so why wouldn't you invest time and energy into making sure you're getting it right?
---
Ready for a new challenge? Explore our open roles.