Community
AND Digital are Double Gold Winners at The Learning Awards
23 February 2022 • 2 min read
We're celebrating two epic gold award wins at The Learning Awards, the highest accolades in workplace learning and development: Apprenticeship Programme of the Year and Onboarding Programme of the Year.
A Learning Award is far more than a recognition of achievement in L&D. It is, as the awards themselves state, "the ultimate accolade given to anyone working in learning and development." A gold award is the highest order of merit, signifying the unanimous vote of all judges.
So we are thrilled to have won two gold awards at this year's Learning Awards, held at London's JW Marriott, Grosvenor House on 17 February: Apprenticeship Programme of the Year and Onboarding Programme of the Year.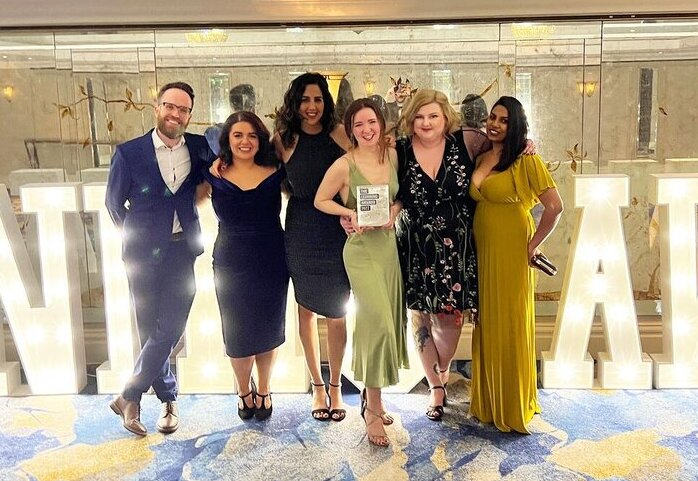 Apprenticeship Programme of the Year
To win the apprenticeship award, we needed to be able to show evidence of innovation, apprentice support and engagement, and the ability to strongly answer the challenge 'what opportunities did we create for the apprentice?'
AND Digital's internships and business admin apprenticeships provide access to active client projects. They expose apprentices to new languages and technologies they haven't encountered before. And they let apprentices attend the same huge range of training courses we run for every other ANDi within the business. At the end of the programme, we are delighted that our successful apprentices have the opportunity to join AND full time.
Onboarding Programme of the Year
This award is presented to the organisation best able to demonstrate consistent high quality and innovation in its onboarding, as well as defined and measured impact on the organisation. To win in this category, the judges were looking for clear differentiation from other entrants.
Throughout our rapid growth, international expansion and transformed ways of working, our onboarding has remained the foundation of our people value proposition.
Our first week of ANDuction creates a rapid, deep connection to our unique people-first culture and ways of working. Then, for technical roles and new teams joining together, a further two weeks of ANDbootcamp gives new starters everything they need to hit the ground running, including the chance to take part in their first build project.
Even during the pandemic, when onboarding had to be done rather differently, our ANDis found the experience "incredibly welcoming, supportive and fun."
"We are hugely proud to receive these awards," said Lauren Hine, Chief of Tenzing South Hub, AND Digital. "Our onboarding and apprenticeship programmes are the launchpad for our ANDis' careers. Receiving these gold awards is a recognition not just of the value of what we're doing, but how we're doing it."

---

Time for a new role? Or maybe a career change?