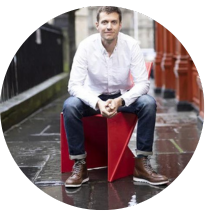 By Liam Kerley
In the fast-evolving landscape of Financial Services (FS), staying ahead of the curve isn't just a competitive advantage – it's a necessity. Here at AND Digital, our Communities of Practice keep each other up to speed, sharing articles, podcasts, innovative projects and teachable breakthrough moments.

We checked in with our Financial Services Community of Practice to find out what's trending in their community, and Practice Lead Liam Kerley had some resources to share - in the form of the top 5 fintech podcasts they're using to stay sharp in 2023.
As the Financial Services Community of Practice Lead, I'm passionate about making sure my peers and clients have access to the best knowledge sources in fintech.


Below, I have listed some of the best podcasts (in my opinion) for anyone looking to learn more about tech in financial services. Check them out below.
Fintech Insider by 11: FS
Hosted by industry experts from 11:FS, a digital transformation consultancy, Fintech Insider offers deep dives into the latest trends, innovations, and disruptions shaping the financial services industry. (FYI - for those of you like me who are secret insurance geeks, 11:FS also do a great Insuretech podcast Insuretech Insiders by 11:FS). Listen here
The Fintech Blueprint hosted by Lex Sokolin
Covers all things fintech across the globe. This podcast focuses mainly on the future of FS technology and includes interviews with Fintech leaders across the whole FS spectrum. Listen here

Fintech Family Hour hosted by Zach Andersen Pettet
This one is focused on the American market but still delivers great insightful content on Fintech. Listen here
Breaking Banks hosted by Brett King
The original podcast has since branched off into US and European versions, although both still provide great value for anyone interested in fintech. If you haven't already, get your hands on some of Brett's books on the future of banking too - well worth a read. Listen to the podcast here
I'd love to share ideas and chat about anything you learned in the podcasts above - come say hi to me on Linkedin.
Looking for more Financial Services insights?
For those undertaking digital projects in the FS industry, it can be hugely helpful to hear from others who have faced the same challenges.

We asked Financial Services leaders about the key challenges and breakthrough moments in their digital journeys - and now with insights from Nationwide Building Society, Lloyds Bank, Ordo, Ruffer and AND Digital, we've mapped out those solutions so you don't have to.

Read those insights here.